Corporate Video Production in Omaha since 1993.

We have created memorable and effective videos for our clients, specializing in a wide range of services and industries. A brief recap of the past two and a half decades would include television commercials, industrial videos, corporate sales videos, safety and training videos, live event coverage, conferences, sports of all kinds and wedding videos.

We offer the experience, flexibility and professional equipment to shoot in many styles. Our Electronic News Gathering (ENG) cameras and equipment are perfect for events, conferences and training. Our digital cinematic style and equipment is perfect for television commercials, interviews and beautifully produced wedding videos.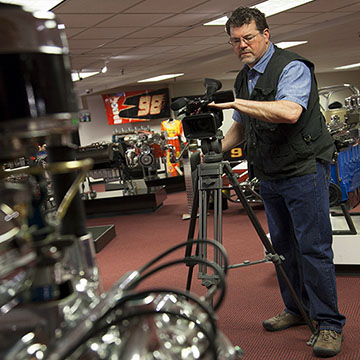 We use professional grade video cameras, lighting and sound equipment.
We can provide a wide variety of shooting packages ranging from one camera to multi-camera shoots requiring a group of professionals trained in camera, lighting and sound operations.
Our equipment list is growing continuously. We have broadcast quality professional HD video cameras from Sony and Canon. In our DSLR lineup we have Canon 5D cameras for an incredible cinematic look with a full compliment of lenses to cover focal length and depth of field changes. We have several GoPro cameras to cover the point of view or camera angle that is hard to reach. We recently added a DJI Phantom 3 drone for aerial video and photography.
We can handle our own sound and lighting, which has been a strong selling point. Many of our projects are one or two person operations. Having our own arsenal of Sennheiser lavalier and boom microphones along with lighting from ARRI, Lowell and Westcott adds value when working with us. We pay very close attention to sound quality and nuances in lighting.
For video editing we use Adobe's full Creative Cloud suite of tools including Premiere Pro, Photoshop and After Effects.
Click on the Video Work gallery menu, watch our demo reel and more videos produced for our satisfied customers. Contact us at 402-341-5423 to write, shoot & produce your next video. You will be impressed.